Meet Didgette
Hello! I'm Didgette, your Open Campus and Agriculture Faculty in Grant County. I'm here to help you and your family build a path to college, additional training/schooling, career and beyond, as well as finding the resources and support you need to take the next step. I can also connect stakeholders with agricultural resources. In addition I do community development and am eager to engage in that realm.
I can talk with you about:
College and career coaching
Financial aid and scholarship support
Preparing for and applying to college
Transferring from a community college to a university
Mentoring for high school and college students
Internship guidance, including resumé and cover letter support
OSU Ecampus test proctoring and connections
Agriculture resources
Connecting community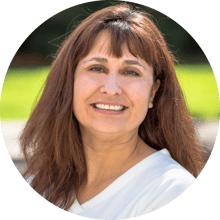 DIDGETTE MCCRACKEN
didgette.mccracken@oregonstate.edu

Phone 541.575.4028
Texting 541.275.2233
Have a question? Ask an Expert is a way for you to get answers from the Oregon State University Extension Service.